I'm continually inspired by the effortless, masterful works of watercolorists from many eras and cultures, particularly Sargent, Homer, Turner, Prendergast, Wyeth, Hiroshi, Zorn and fellow Winthrop native John Whorf. I am further inspired from my seminars with notable artists, authors and friends – Charles Reid, Jeanne Dobie, Don Andrews, and Carleton Plummer. Together with my architectural drawing discipline, all my watercolor skills and experience have helped me in developing a versatile painting style.
In seeking arresting views of the everyday, those flash moments which transform ordinary subjects into fluid watercolor impressions, I attempt to capture some be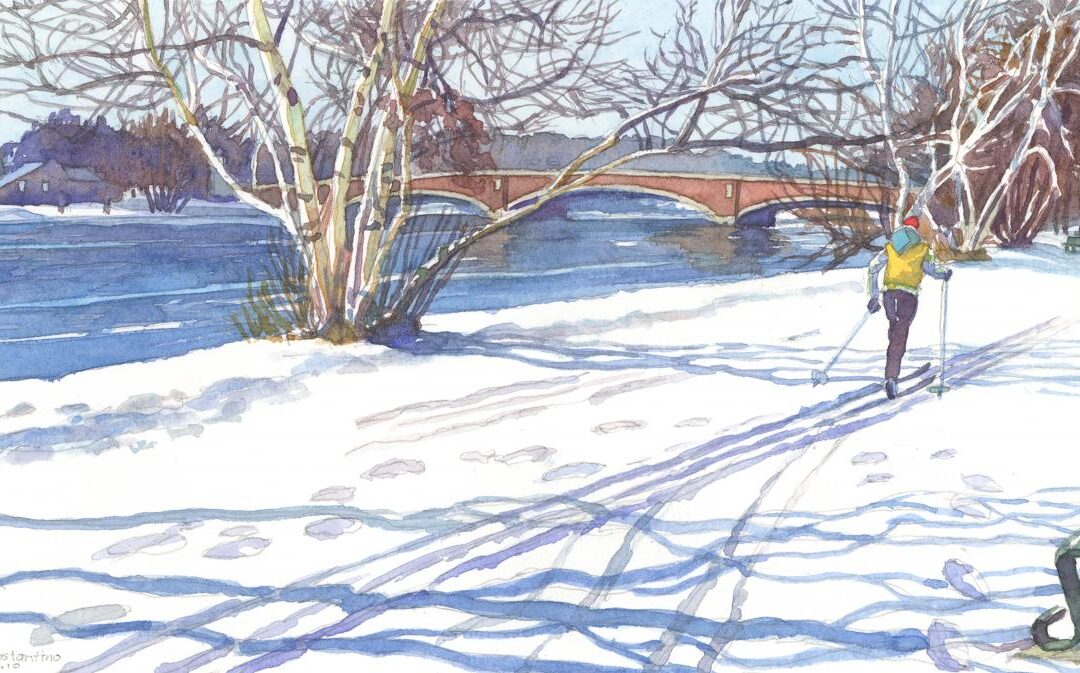 After an enormous blanketing storm, this evocative winter vista of a cross-country skier perfectly captures another way the Charles River embankment provides connections to nature for the many residents of Boston, Cambridge and adjacent towns. Painted for the Charles River Conservancy.
read more
Paintings Of Buildings and Architecture
Click to see more
Expressive of an artist's methods during an arts festival, the painting shows the juxtaposition of the artist intent on her work (which is outside the frame of the view), and collectors shaded under the canopy of the exhibition shed.
read more